Here's a little story to start this review:
You catch an ad for a restaurant chain that says, "Gourmet Dinner, Guaranteed to be Enjoyed by EVERYONE in the World."
So, being a member of the EVERYONE group, you decide to pay hundreds of dollars for this gourmet meal, only to discover after trying it that every dish contains meat. Being a vegetarian, you are out your money, have a stomach ache, and are still hungry.
Hundreds of other vegetarians were similarly misled by the advertisement, so the restaurant chain changes the ad to, "Gourmet Dinner, Guaranteed to be Enjoyed by EVERY MEAT LOVER in the World."
Soon after, thousands of people who are allergic to red meat get sick from eating the dinner, for unknown to them, every dish contains red meat.
The restaurant chain this time does not change the ad, but instead buries in the fine print on a tiny note taped to the wall by the cash register as you enter the restaurant: "This dinner is only compatible with people who can eat red meat." And that small subset of people, when they finally eat the dinner, really enjoy it.
Now, what does that story have to do with the Belkin Thunderbolt 3 Express Dock HD?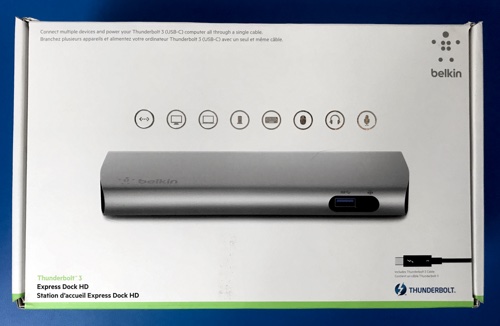 Before we get to that, let's introduce the device. On the box, the Belkin Thunderbolt 3 Express Dock HD says it allows you to "connect multiple devices and power your Thunderbolt 3 (USB-C) computer all through a single cable."
This is true, except for a big, BIG caveat I'll explain in a moment.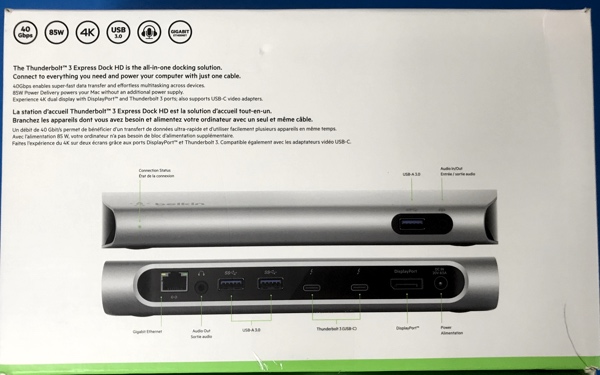 Basically, the dock has many different types of ports on it — you can hook your peripherals to the dock and then connect the dock to your computer. This makes charging as well as plugging and unplugging your computer very easy to do while still giving access to all those peripherals. Even better — the many ports on the dock allows you to connect more peripherals to your computer than you have available ports. In the box, you get the dock, a (large) power brick, and a USB-C cable.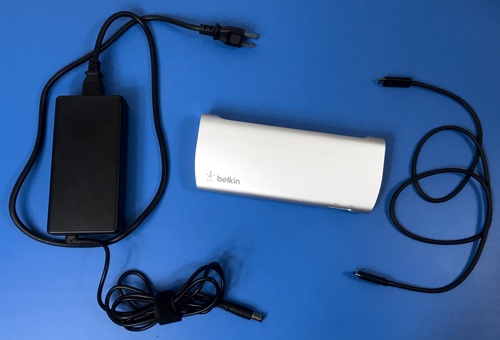 In specific, the dock has:
* 1 Gigabit Ethernet port
* 1 Audio Out port and 1 Audio In/Out port
* 3 USB-A 3 ports
* 2 USB-C 3 ports
* 1 DisplayPort
Sounds good!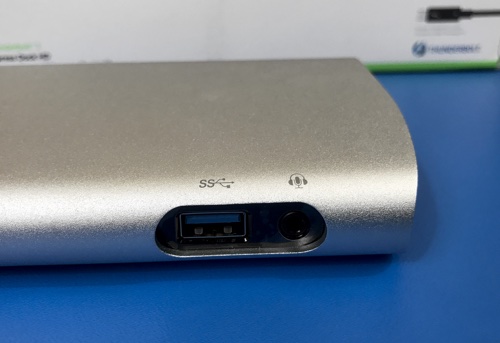 Moreover, the dock can provide up to 85W of power to your computer — you can power your computer and connect to your favorite devices via just one cable connection to your computer. The dock even supports dual 4K displays (via one DisplayPort and one USB-C port).
Sounds really good!

It is — all the technical bits work well, except for that big, BIG caveat.
This dock is advertised as a "Thunderbolt 3 Express Dock."
But, in fact, it does not work on all Thunderbolt 3 computers. For example, I tried it on a Chromebook with USB-C — the dock did not work.
After others probably complained about this, on the Amazon product's title they added, "Compatible with Mac Only."
But this isn't accurate either. I tried it on a MacBook (early 2016), which has one USB-C port. Now, with only one USB-C port, you would think the MacBook would be the ideal computer for use with the dock, but unfortunately the dock did not work.
If you scroll down the Amazon page you can now find one of the bullets on the page saying, "Designed to work with the following devices: MacBook Pro w/Thunderbolt 3 port."
And that's the caveat. This "Thunderbolt 3 Express Dock" is really a "MacBook Pro Thunderbolt 3 Dock." I tried it on a MacBook Pro (late 2016) — works great.
So like the dinner in the story I introduced this review with, the dock works well, but the advertising for the dock is confusing, as you can tell from some of the other reviews. Just be aware that this dock only works with MacBook Pros with Thunderbolt 3 plus macOS Sierra (or newer).
If you read the fine print on the Amazon page, you can find out this information before you buy the dock, but in my opinion, when marketing your product by leading with bold claims: "Thunderbolt 3", then adding one exception: "Mac Only," and then further clarifying that in the fine print with: "Only compatible with MacBook Pros with Thunderbolt 3," this is a confusing way to market an otherwise useful product.
Pricing and availability on Amazon: Belkin Thunderbolt 3 Express Dock HD