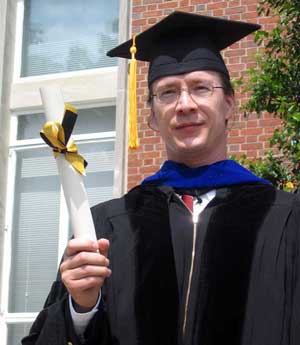 OK, genealogy, and academic genealogy at that, are perhaps not the most stimulating of topics. But throw in scientific and mathematical giants such as Euler, Bernoulli, Lagrange, Poisson, Hadamard, and a cameo by Leonardo da Vinci himself, and what began as a dry exercise turned into a fascinating romp through history.
Thanks to the Mathematics Genealogy Project, and some curiosity, I was able to trace back my academic genealogy from my PhD advisor, to his PhD advisor, to his PhD advisor, etc., all the way back until the records gave out.
Amazingly, I was able to trace my academic heritage all the way back to the year 1380, to an academic ancestor named Georgios Plethon Gemistos, who was a Greek scholar of neoplatonic philosophy.
And here is his picture: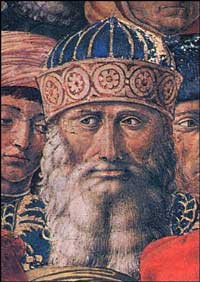 Below, starting with Gemistos, for each person I state the advisor's name and the year of his dissertation, if it is known. A link to the appropriate webpage is also given, if I could find one.


Georgios_Plethon_Gemistos, 1380





Basilios  Bessarion, 1436





Johannes  Argyropoulos, 1444



* Leonardo da Vinci was also a student



Johann (Johannes Kapnion) Reuchlin, 1477, 1481





Jan (Johannes Campensis) van Campen, 1519



Nicolas (Nicolaes Cleynaerts) Clénard, 1515, 1521





Johannes (Johann Sturm) Sturmius, 1527





Petrus (Pierre de La Ramée) Ramus, 1536





Theodor  Zwinger, 1553





Petrus  Ryff, 1584



Emmanuel  Stupanus, 1613





Nikolaus  Eglinger, 1660, 1661





Johann  Bernoulli, 1690, 1694





Leonhard  Euler, 1726





Joseph Lagrange





Simeon Poisson, 1800





Michel Chasles, 1814





Gaston  Darboux, 1866





C. Émile (Charles) Picard, 1877



Jacques Salomon Hadamard, 1892





Szolem Mandelbrojt, 1923





Hugh Daniel Brunk, 1944





Timothy Robertson, 1966





Edward Wegman, 1968





Carey Priebe, 1993 (and David Marchette, 1996)





Kendall Giles, 2007