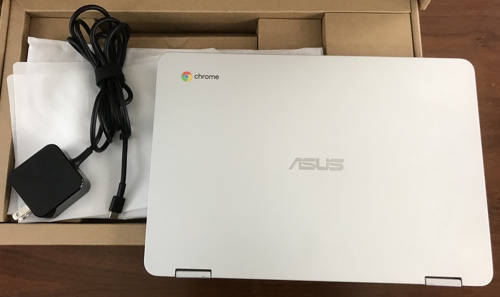 I'll compare this ASUS Chromebook Flip with 12.5″ touchscreen to the smaller and more portable ASUS Chromebook Flip C101PA-DB02 with 10.0″ touchscreen in just a moment, but first let's look at its specs.
This Chromebook weighs just under 2.7 pounds and has dimensions of about 12″ x 8.25″ x .6″ thick. The chassis is aluminum (feels sturdy!), and the computer has a 12.5″ 1920×1080 touchscreen.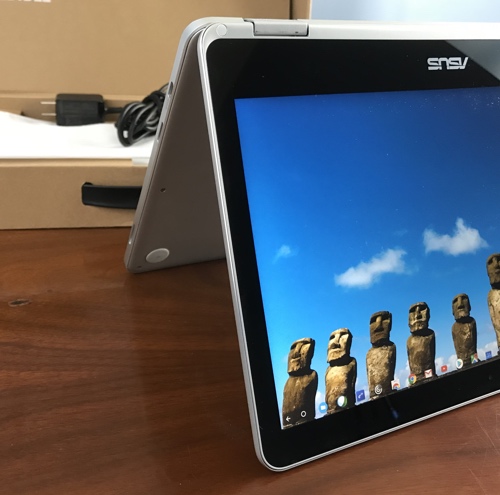 What I like about this Chromebook is that the touchscreen's hinge allows you to rotate the screen 360 degrees — you can use it of course as a normal laptop, but you can also stand it up like a tent in case, for example, you want to make a presentation or share a video with a group of people, and you can rotate the backlit keyboard completely under the screen to use the Chromebook as a tablet.


The Chromebook's battery lasts about 10 hours of mixed use, and it comes with a USB-C charging brick and cable. One benefit is that this model comes with a USB-C port on each side, so that you can charge on either side. One gripe is that the prongs for the charging brick do not swivel into the brick body like more travel-friendly chargers.


This model comes with a peppy Intel Core m3 processor, 64GB of storage, and 4GB of RAM. The keyboard and touch interface seemed responsive and the apps I used were very responsive, so these technical specifications seem more than adequate for many office or home use cases, such as word processing, email, browsing, and watching videos. I used it to connect to my work's virtual desktop infrastructure (Citrix VDI) and this was a great use-case due to the good keyboard and screen. Other technical specs include 802.11ac+Bluetooth 4.0 (Dual band), Webcam, 1 Micro SD slot (took my 64GB card I use in my GoPro just fine), 2 USB-C ports, and 1 headphone out and audio in combo jack.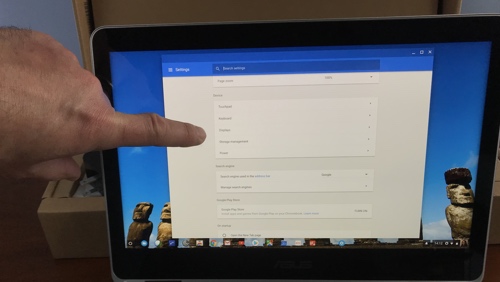 Being a Chromebook, it runs Chrome OS and you have access to apps on the Google Play Store. Since I already had another Chromebook, all my apps were automatically downloaded, my toolbar was setup correctly, and my Chrome browser homepage was even configured correctly, though I had already agreed to backup my apps to Google.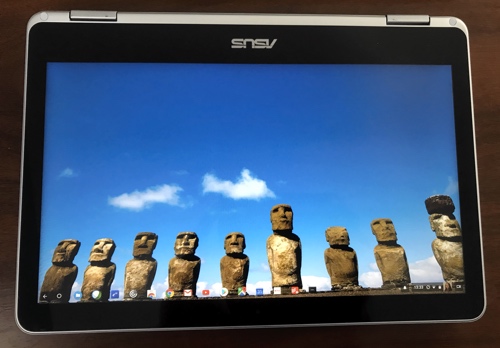 Setup was easy:
1. Enter your WiFi connection information
2. Enter your Google login/password
3. Uncheck (or leave checked) the checkbox to opt out of automated error messages sent to google (defaults checked)
And then the OS updated itself. Once the first download finished, I restarted it, then there was another round of OS updates, then there was a second restart.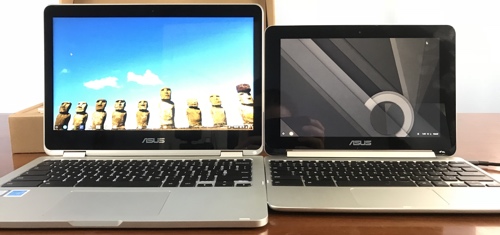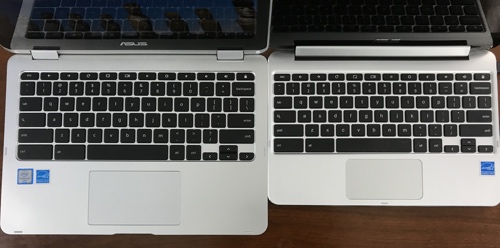 This all sounds perfectly fine, but before you make your decision, you might want to compare it to the smaller ASUS Chromebook Flip C101PA-DB02 with 10.1-Inch Touchscreen. While the smaller version is obviously more portable, with the larger one you get a spacious backlit keyboard, faster CPU, more storage, as well as a larger and higher resolution (full HD!) touchscreen. Check the included pics in this review for direct physical comparisons.
I hope you found this review helpful!
Pricing and Availability on Amazon: ASUS Chromebook Flip C302 with 12.5-Inch Touchscreen (aff)