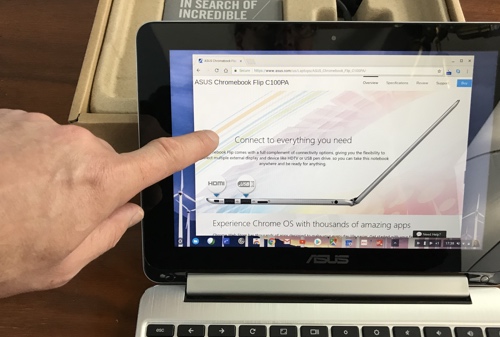 If you are looking for a lightweight and travel-friendly Chromebook that can be used in a variety of ways, then the ASUS Chromebook Flip C101PA-DB02 is a very wallet-friendly option.

This Chromebook weighs just under 2 pounds and has dimensions of about 10.25″ x 7.13″ x .6″ thick. The chassis is aluminum (feels sturdy!), and the computer has a 10.1″ 1280×800 touchscreen.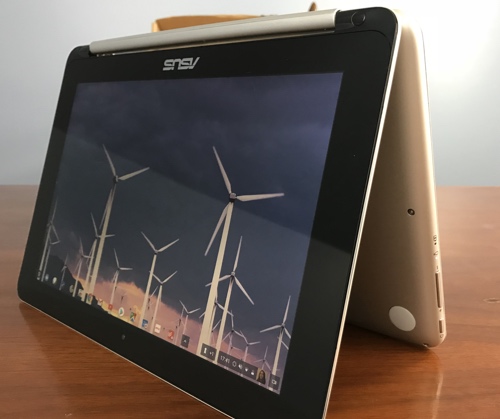 What I like about this Chromebook is that the touchscreen's hinge allows you to rotate the screen 360 degrees — you can use it of course as a normal laptop, but you can also stand it up like a tent in case, for example, you want to make a presentation or share a video with a group of people, and you can rotate the keyboard completely under the screen to use the Chromebook as a tablet.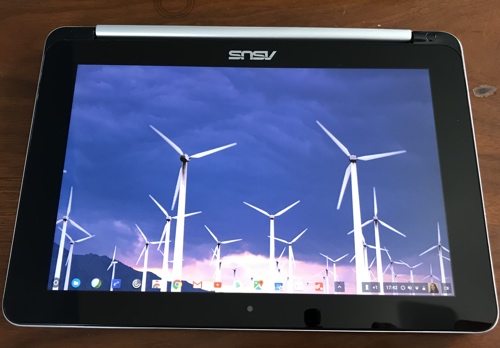 The Chromebook's battery lasts about 8-9 hours of mixed use, and it comes with a USB-C charging brick and cable. One gripe is that the prongs for the charging brick do not swivel into the brick body like more travel-friendly chargers.


This model comes with a quad-core 2.0 GHz processor, 16GB of storage, and 4GB of RAM. The keyboard and touch interface seemed responsive and the apps I used did not seem sluggish, so these technical specifications seem adequate for many office or home use cases, such as word processing, email, browsing, and watching videos. Note however that the keyboard is not backlit.
Other technical specs include 802.11ac+Bluetooth 4.0 (Dual band), webcam, Micro SD slot (took my 64GB card I use in my GoPro just fine), 1 USB 2.0 port, 2 USB-C ports, and 1 headphone out and audio in combo jack. Note however that both USB-C ports are on the same side of the computer, which may be limiting depending on how you are trying to plug in.

Being a Chromebook, it runs Chrome OS and you have access to apps on the Google Play Store. Since I already had another Chromebook, once I logged in with my Google account a lot of things happened automatically. Specifically, all my apps were automatically downloaded, my toolbar was setup correctly, and my Chrome browser homepage was configured correctly. Note that I had already agreed to backup my apps to Google, which is why this worked seamlessly.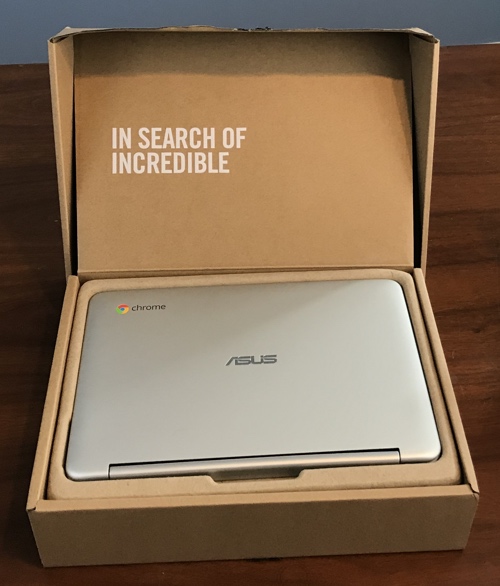 Setup was easy — this is what I did:
1. Entered my WiFi connection information
2. Entered my Google login/password
3. Unchecked the checkbox to opt out of automated error messages sent to google (defaults checked)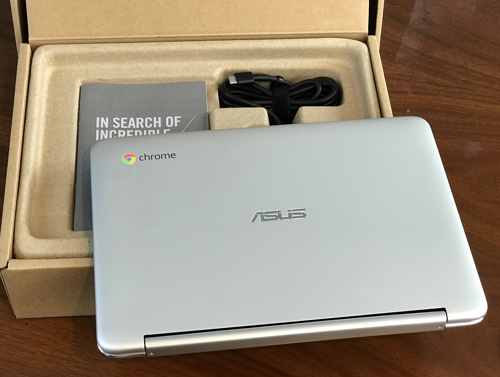 And then the OS updated itself. Once the first download finished, I restarted it, then there was another round of OS updates, then there was a second restart.
What use-cases are best for this Chromebook?
1. Given its small size, its good for travel, especially for flying overseas (since it is not recommended you take your main computer on foreign travel from a security perspective). However, printing boarding passes requires online access because Google doesn't support USB print drivers… only internet printing is supported.
2. Also given its small size, and also considering its price, this is a good computer for a child or an adult who is comfortable with a compact keyboard.
3. Watching movies or casual use of Skype, browsing, and email. Note that I personally would want a bigger screen for VDI or most Webex or training videos, but this smaller screen is fine for general entertainment. I did think the usable screen could have been better though — there's quite a large black bezel border around the screen — since the screen is already small, in terms of proportion the black border looks much too large. On the positive side,there are two speakers on the bottom of the computer and you get the best volume when standing the Chromebook up in tent-mode.
So all in all, this is a solid (metal chassis) inexpensive, travel-friendly Chromebook with a very versatile touchscreen.
Pricing and availability on Amazon: ASUS Chromebook Flip C101PA-DB02 (aff)