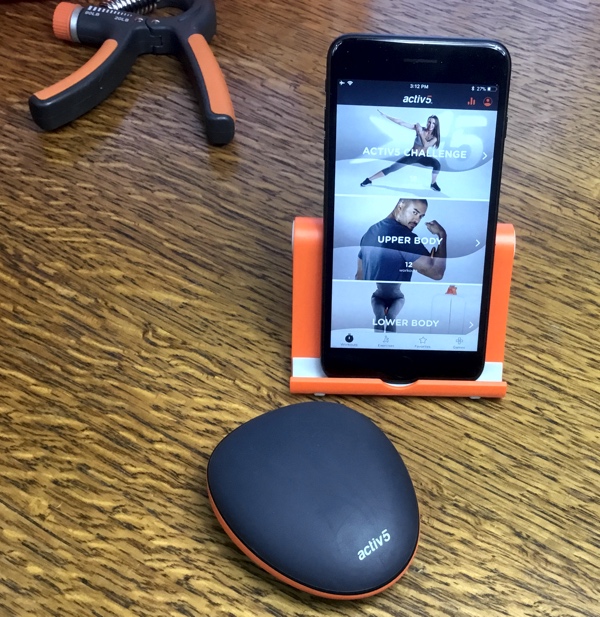 Quirky. That's was the first thought I had when seeing the Activ5 Portable Strength Training Device & Coaching App. But after trying it, I'm a convert, so in addition to "quirky" I'll also have to say the device is "effective." You should understand though what the device does so that you can evaluate whether it will fit your needs, so let's take a look.
Basically, the Activ5 device is a palm-sized object that you squeeze in a variety of isometric exercises. There are sensors in the device that record how hard you are squeezing, and via a Bluetooth connection to the free app, you can record your progress. The device runs off one AAA battery (included and is user replaceable). Depending on usage, you can expect one battery to last six to twelve months.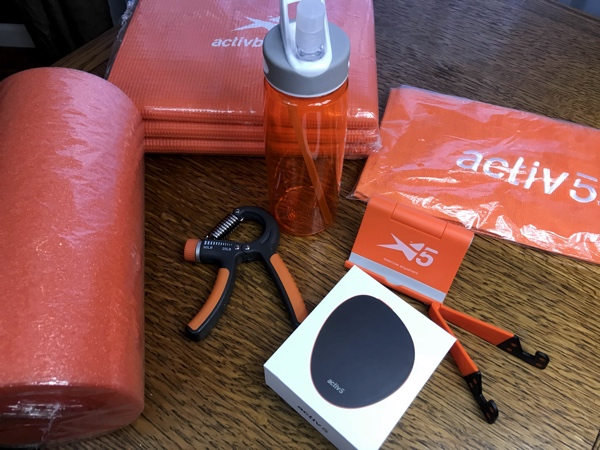 The base package comes with the Activ5 device, a stand for your mobile phone, a quick-start guide, and a small fitness towel. I got the deluxe package, which also includes a foam roller, exercise mat, water bottle, hand grip (adjustable from 20 pounds to 90 pounds), and a more portable stand for your phone (one that folds up for travel). The foam roller, exercise mat, water bottle, towel, and hand grip are of good quality, but if you regularly workout, it is likely you already have these extras. However, especially if you are just starting to workout, then having the deluxe package may be worth it to you, since it contains everything you need to get started.
The stand is meant to hold your phone while you workout, since watching the app on your phone's screen is key to exercising with the Activ5. Note that you don't have to use your phone, but the app orientation is locked into portrait mode, so if you use the app on your tablet, you'll need a way to stand the tablet in portrait mode.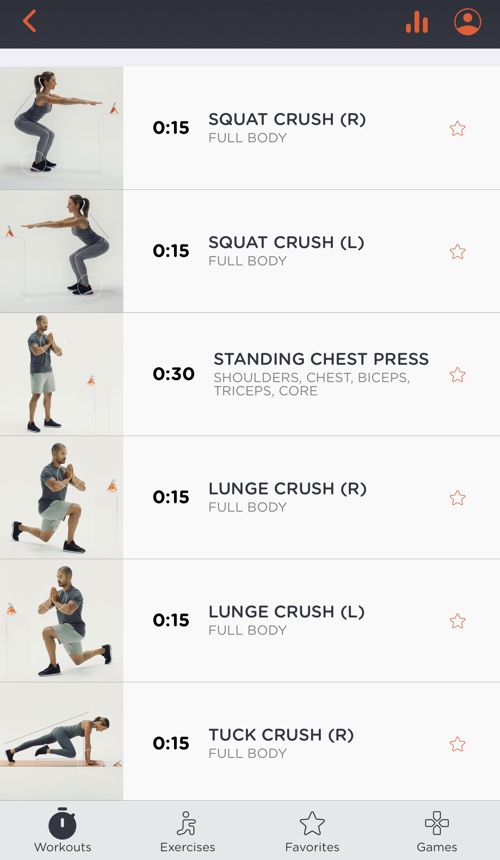 To use the Activ5 you must download the app and create an account (be sure you do this while you have internet connectivity — ie, before you get on the plane! The free app is available for iOS and Android), then connect the device to the app via Bluetooth (the max range between the Activ5 and your phone is about seven feet). Once connected, you can choose from a variety of 5-minute full-body workouts. For example, one morning full-body workout has 16 exercises, and each exercise is meant to be done for 15 seconds. This might not sound like much, but when you are squeezing the device, 15 seconds can be a long time. Exercises in that workout include squat crush, standing chest press, lunge crush, tuck crush, and plank crush. There are also workouts that focus on specific body parts (eg, upper body, or even just your biceps), yoga/pilates, and workouts for when you are in the office, on a plane, etc. There are even games to "gamefy" your workouts. In one game, for example, you must fly a rocket ship to avoid obstacles by squeezing the Activ5—the harder you squeeze the faster your ship goes.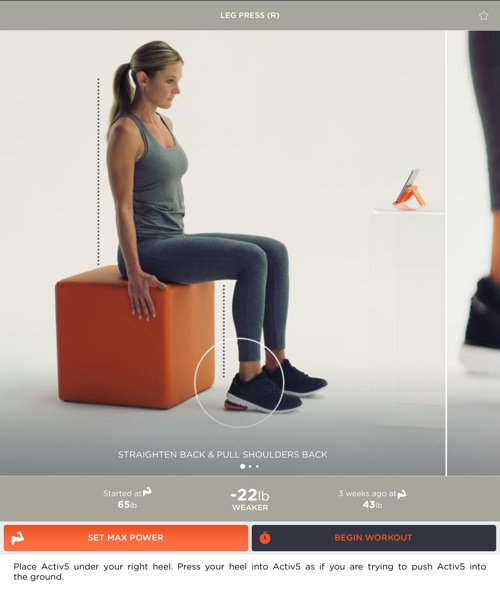 The app keeps track of your workouts, including date, exercises done, workout length, performance for each exercise, and weekly total equivalent weight lifted, including average max power, average exercise precision (how closely you were able to keep your marker to the exercise curve), total weight lifted, body strength balance, total exercises performed and total active time. For each exercise you create a "benchmark," which is basically you performing the exercise with max effort. This calibrates the exercise to your strength level. You only have to do this one time — thereafter, when you perform that exercise, the app will guide you by varying the amount of effort you must expend squeezing the Activ5. You see on the screen a curve that scrolls by, and the goal is to keep your marker on the curve by squeezing the Activ5—if the curve goes up, you need to squeeze harder; if the curve goes down, you squeeze less. Once you finish the exercise the app shows you how well you did, and your results are added to your profile history. You can then repeat the exercise for multiple reps or move on to the next one in your program.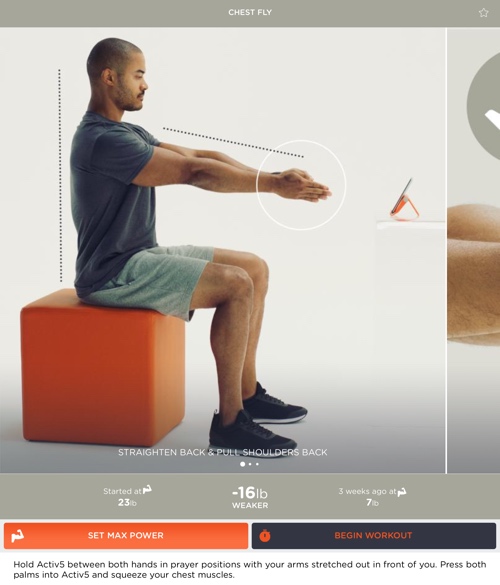 One nice feature is that the app allows you to create multiple profiles so that more than one person can exercise with the same Activ5 device. And there is a "guest" mode where your puzzled office colleague can give it a try without messing up your stats.
As with anything, if you are consistent you will make progress. But I do have to say that the exercises were more effective than I had thought they were going to be. For someone who already has an exercise program, then think of this Activ5 as a way to supplement what you are already doing. Do you lift weights? Then you can get in a morning or evening yoga routine combined with Activ5 isometric exercises. Do you run? Then add some strength exercises, especially for the upper-body with the Activ5. Did you do a core workout at the gym in the morning? Then add in some additional Activ5 core exercises throughout the day to help "grease the groove," which is the idea that one way to improve strength is to repeat an exercise multiple times throughout the day. You get the idea.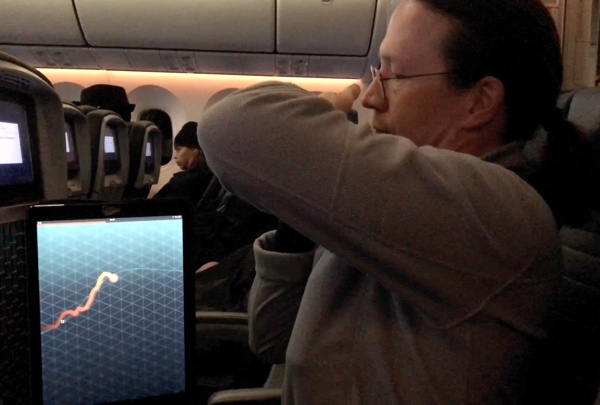 But for me, the Activ5 really shines when on travel (plane, hotel, train, etc) or when cooped up in the office all day. All you need is the device, which is easy to pack, and your phone. While there are exercises you can perform that need a lot of space, you can actually perform an entire workout routine just by sitting in your chair. For example, there's the chest press, shoulder press, leg press, lat pull, zen chest press, toe raise, inner thigh squeeze, outer thigh squeeze, oblique crunch, and calf raise.
On a recent cramped flight from Europe to the US, where takeoff and other delays kept us on the plane for much longer than necessary, instead of watching a movie like the passengers around me, I got in a workout. This helped me relax and, perhaps not coincidentally, afterwards I was able to catch a few hours of sleep. When we landed, I felt more refreshed than I think I would have been had I not been able to exercise while on the plane.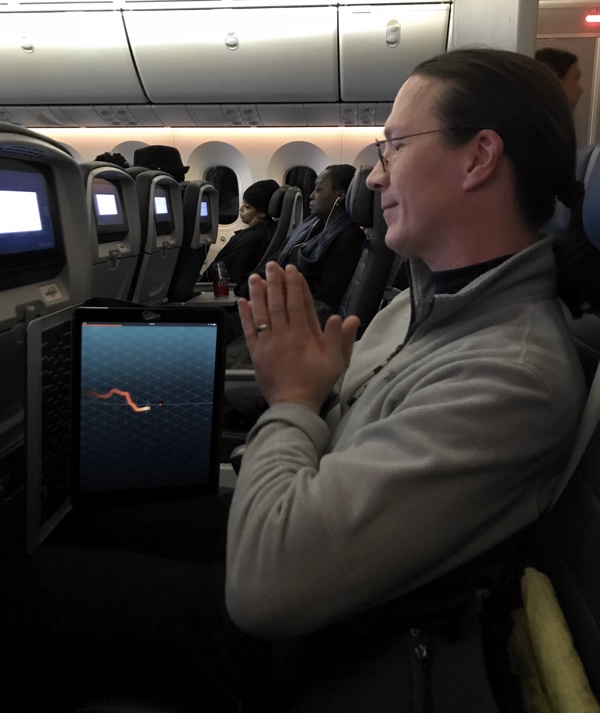 All in all, this quirky exercise device and app really work. Though you might not be familiar with isometric exercises, the exercises, workouts, and coaching sessions are well thought out. Also, the app interface makes doing the exercise fun and challenging. The Activ5 certainly won't replace your kettlebell, but it does allow you to get in extra workouts, especially when on travel or in the office.
Don't even think of swinging your kettlebell on the plane. But exercising with the Activ5? No problem.
Pricing and Availability on Amazon: Activ5 Portable Strength Training Device & Coaching App (aff)