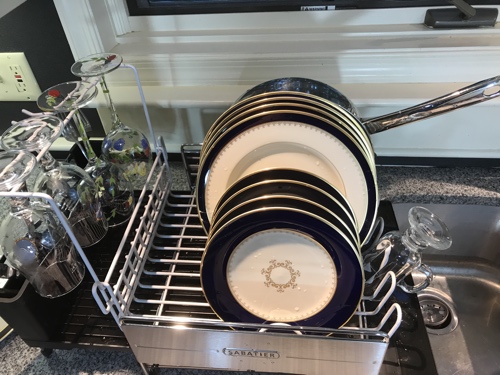 For something as simple as a dish rack, it's amazing how difficult it is to find one that actually works well. With this Sabatier Expandable Dish Rack, I think I've finally found a solution.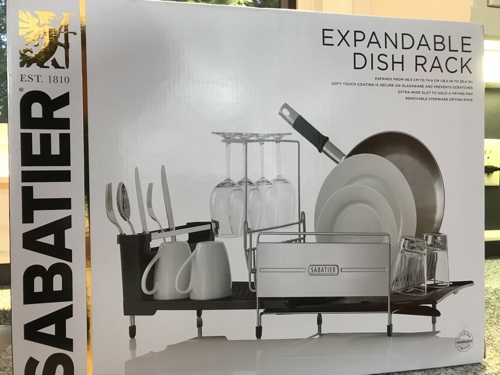 Basically, this is a dish drying rack for your countertop that expands from 18.5″ to 29.4″ (46.9 cm to 74.6 cm), which means if you don't have a lot of dishes to dry, you only need to take up a small portion of the counter, but when guests come over, you can expand to accommodate the extra dishes. There are also a few extra features that turn this dish rack into a really useful one.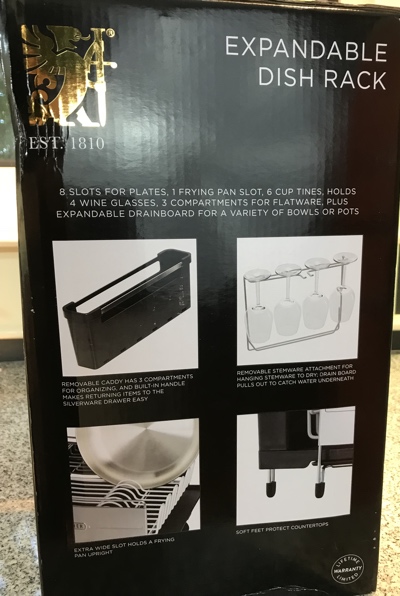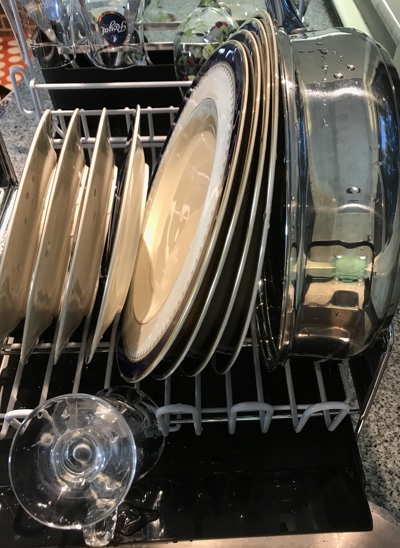 The basic frame is metal, and there are plastic feet on the part that rests on your countertop. There is a metal insert that holds the dishes, and that has a plastic "soft-touch" (vinyl) coating to help prevent your dishes from chipping. This insert has slots for 8 dishes and one wide slot for a frying pan or saute pan. One end of the insert has raised six raised prongs to hold glasses, such as juice glasses or mugs, and there is an extra drip catcher you can pull out to make sure water does not get onto your counter.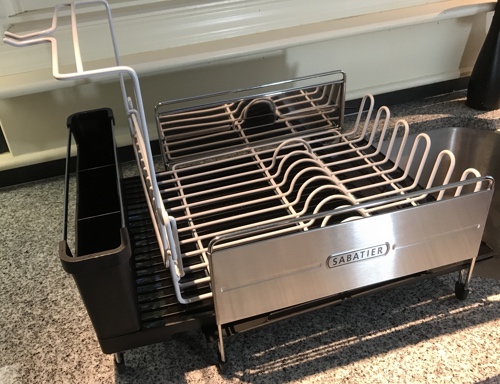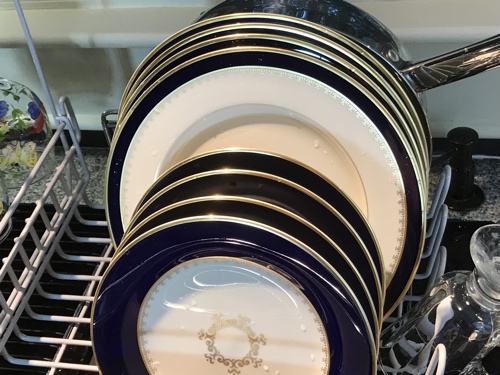 There is also a second soft-touch removable drying rack for stemware (eg wine glasses). As you can see in the pictures, I was able to fit four wine and beer glasses.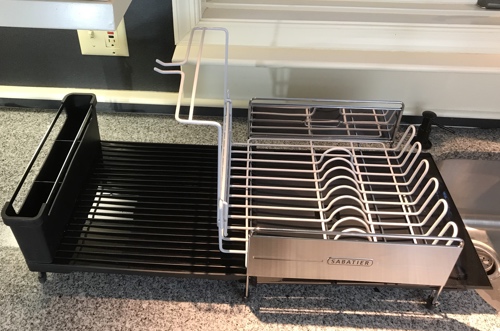 Underneath the metal drying racks there are two plastic liners. One liner can be pulled out to expand the overall drying rack. The top liner drains into the second, and beneath that liner there is a drain spout to direct all the collected water into your sink. This is actually a very nice feature, because I've had other drying racks where the water just pools in the bottom, which causes rust and other deposits. Even better — the spout can be connected so it directs water to the left OR to the right, which means you can put the drying rack on the left side of your sink or the right side, depending on your own preferences.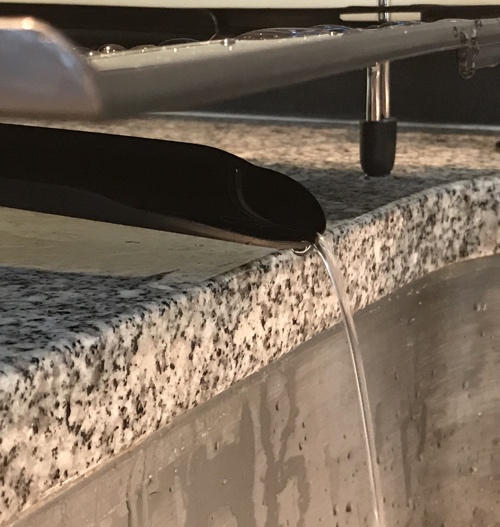 I should note: when pulling the liner out to expand it, or when pushing the liner in to make the rack more compact, the guides are rather loose, meaning you will need to take a little extra effort to get everything lined up correctly. However, this is not difficult and it also means that everything comes apart easily if you need to wash the rack itself, but it is something to keep in mind.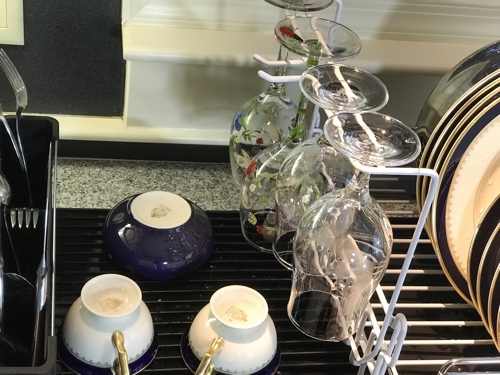 When you expand the drying rack, this opens up a flat area where you can put extra cups, such as bowls or coffee mugs. At the very end of the drying rack is a utensil tray with three compartments. This tray has a handle so you can easily lift it out and carry it with you to your utensil drawer so you can put away the utensils more conveniently.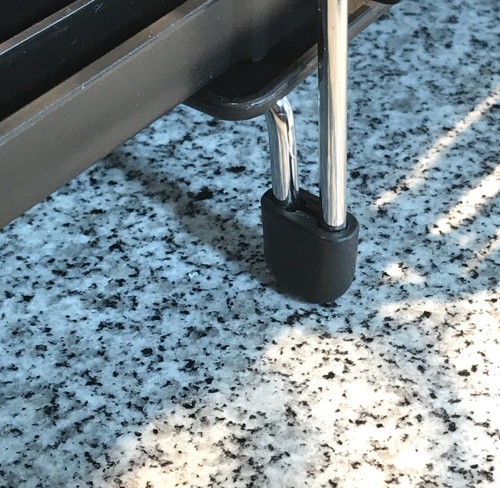 All in all I have been very pleased with this drying rack. All the excess water gets drained into the sink rather than pooling in the bottom of the rack or spilling onto the counter. Also, it can expand or contract depending on how many dishes I need to dry, and this flexibility allows me to maximize my countertop space.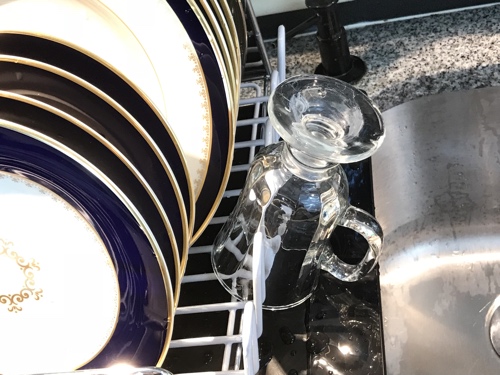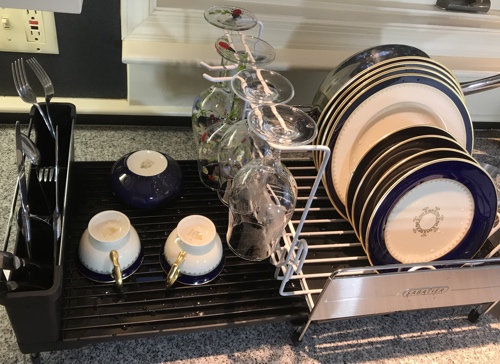 So after having been disappointed so many times in the past by various drying racks, I'm happy I've now found one that does the job well.
Pricing and availability on Amazon: Sabatier Expandable Dish Rack with Soft Touch Coating (aff)