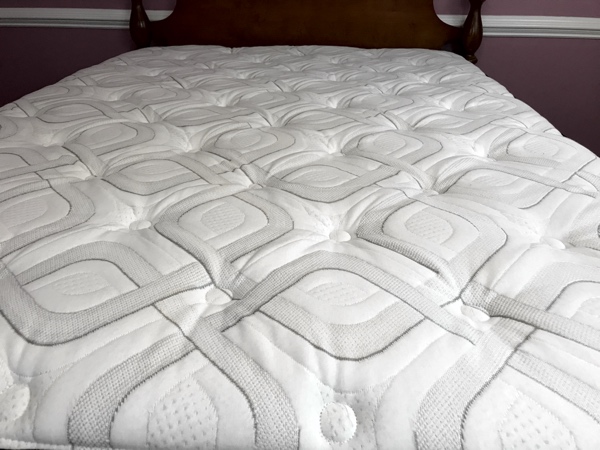 After getting this Sealy Full Response Premium Collection Mattress I've been getting solid sleep, so I thought I'd give a few details and make a few comments.
This mattress is part of Sealy's "Response Line" of innerspring mattresses. I have the "full" size, which measures 74″ by 53″ by 14″, and the "cushion firm" firmness, which in-between their "plush" and "firm" options. This mattress is also the "Premium" version, which is the mattress in the "Response Collection" with the most features — other versions in that collection include the "Essentials" and "Performance" versions.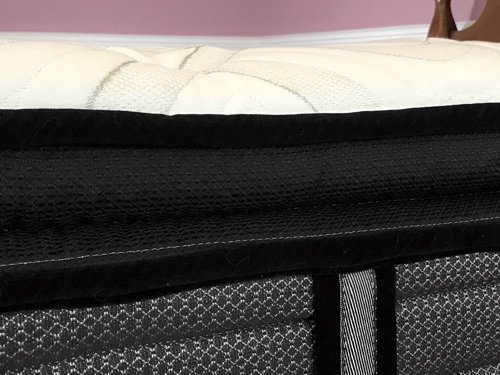 To be honest, I've never had a mattress with so many features before. This mattress includes:
"Posturepedic Technology" — denser memory foam in areas that need reinforced support, such as the middle of your body
"SupremeLoft Cover with MoistureProtect and AllergenProtect" — a durable, breathable fabric to help protect from common allergens and draw moisture away from your body while you are sleeping
"SealyCushion Air Foam" and "SealyChill Gel Memory Foam" — foams designed to allow for more air flow, softness, and support
"Response Pro HD Encased Coil System" — coils encased for added support, better alignment, and reduced motion transfer
"Duraflex Edge System" — higher density coils near the edges of the mattress so you have more support when getting into and out of bed, and you can sleep closer to the edge without feeling like you will fall out of bed
I've included a number of pictures. Including two close-ups of the quilted, soft top layer, two side-view close-ups, and a close-up of the mattress tag (designed and built in the US!).
All the fabrics and stitching seems of very high quality, and the mattress feels very comfortable to sleep on. This is probably the most comfortable mattress I've ever owned. The only downside is that the fabric on the side of the mattress is black, which means if you have white sheets, the black fabric color may show through, though you won't notice if you use colored sheets.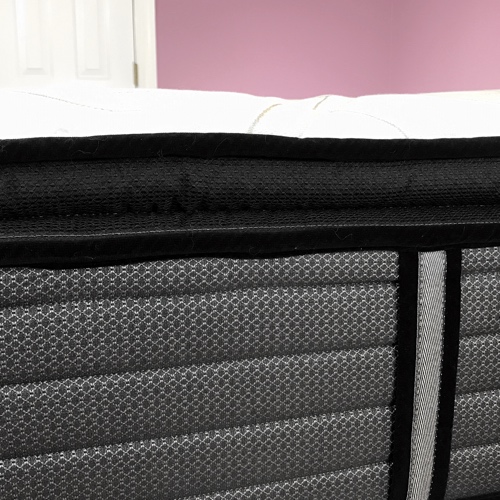 I should also note that this mattress comes with a 10-year limited warranty covering any warrantable repairs or replacements during the 10 year period with no deductible, though you are responsible for any applicable transportation and inspection costs.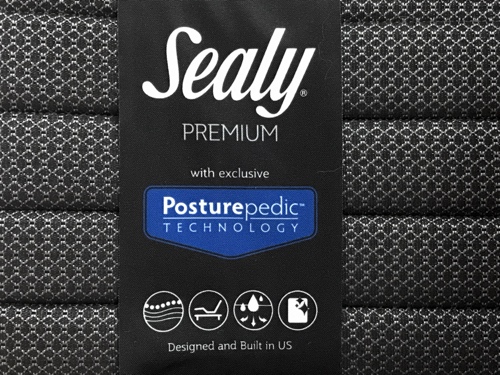 Finally, I was pleasantly surprised by the whole process of buying a mattress online. In the past, my experiences in buying a mattress always involved the same lengthy and exhausting process: visit multiple mattress stores, listen to multiple sales pitches, buy the desired mattress, then arrange for a truck to deliver the mattress. This time, after a click it was ordered from Amazon. Amazon arranged for a freight delivery service for delivery, and a few days before arrival I was called by the company to arrange a time for delivery. They carried the mattress (it weighs about 60 pounds) to the second floor bedroom and even placed it onto the bed frame!
So all in all, I am very happy with this mattress, and I hope you found this review helpful.
Pricing and Availability on Amazon: Sealy Full Response Premium Collection Mattress (AF)