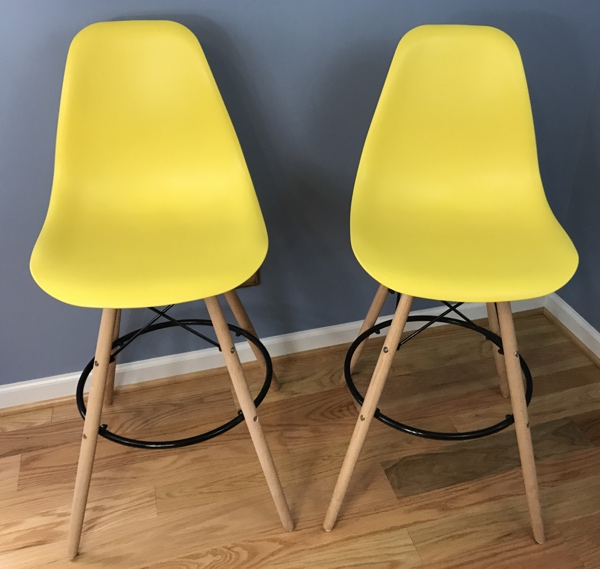 If you are looking for a splash of color around your raised kitchen island or bar, then you might like the IRIS Mid-Century Modern Shell Barstool with Wood Eiffel Legs.
Note that these barstools come as a two-pack. Each barstool measures approximately 20″ x 20″ x 43″, and the seat is almost 28″ off the floor. The barstool seats are plastic, the legs are wood with black metal hardware, and the legs have plastic feet on the bottom.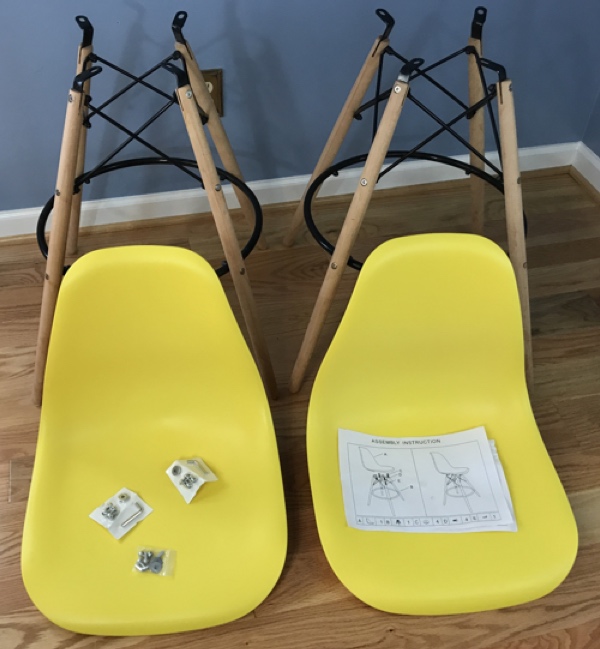 The barstools come partially assembled, but putting them together is fairly easy. In fact, it took me about as long just to remove the protective plastic and foam pieces the stools were shipped in as it did to assemble them. I've included several pictures, but all that is involved in assembly is the yellow barstool seat needs to be screwed to the metal brackets on the barstool legs. All hardware needed to attach the seats (screws, washers, and hex key) is included.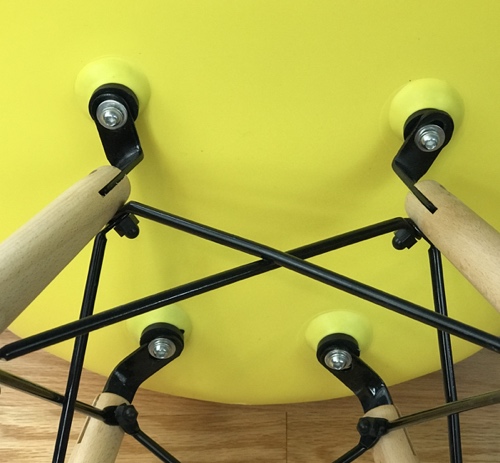 These barstools are available in a variety of bright colors. I have the yellow, and it's actually brighter than the faded yellow shown in the Amazon product pictures — it's a pleasant lemon color. The seats are comfortable and the barstools feel very stable.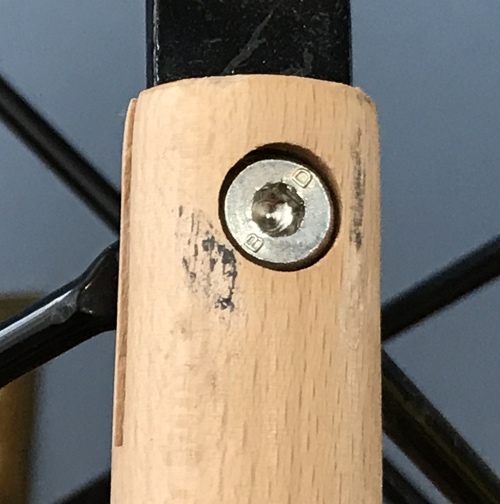 I should comment that the product description says these barstools are "elegant" — in fact, (see pics) I found overall fit and finish of the legs is a little rough. There were dents and gouges in the wood of the legs and some of the screws were off-center. Also, many of the screws on the legs were loose, so once you have attached the seat I would recommend tightening all the screws for the seat as well as the Eiffel legs — for the Eiffel leg screws you will also need a wrench (not included) in addition to the hex key.
So overall these barstools will make a nice colorful addition to most any informal room.
Pricing and Availability on Amazon: IRIS Mid-Century Modern Shell Barstool with Wood Eiffel Legs, 2 Pack, Lemon Yellow