If you keep your guitar near you, then you are more likely to pick it up and practice it. With that in mind I decided to purchase multiple guitar stands, so no matter where I was in the house I could conveniently rest my guitar and have it nearby. However, my wallet said not to go too crazy, so I decided to try this budget Flanger FL-02L Universal A-Frame Guitar Stand. Let me just say that this stand not only is very affordable, but it also gets the job done.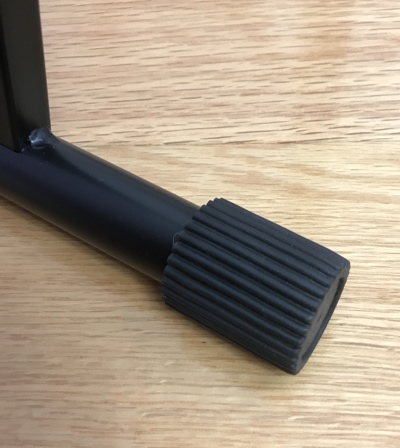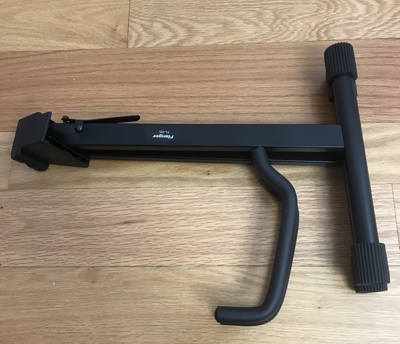 The FL-02L is an A-Frame guitar stand. The stand itself is made of tubular metal and is lightweight, yet seems sturdy due to its locking mechanism (more on that in a moment). There are four rubber feet to prevent slippage. The arms on which your guitar rests are coated in foam sleeves and there is a rubber rest at the A apex to protect your instrument from damage from the stand's metal parts. This is an A-Frame stand, so of course if you bump your instrument it can fall over. But I've used A-Frame stands as a convenient way to keep my guitars on display and ready for playing.
Note (see pics) that the arms and stand can accommodate electric or acoustic instruments.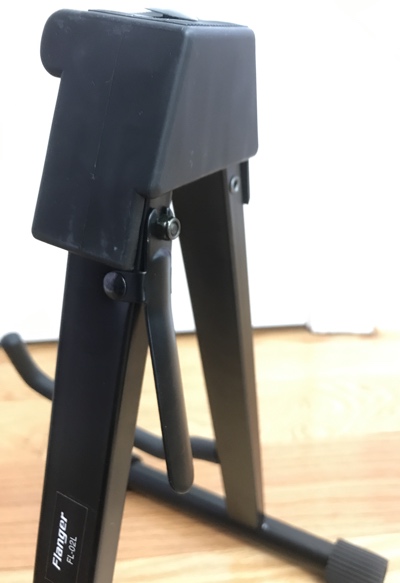 For the locking mechanism, there is a lever on the back of one of the A-frame legs — press the lever to fold the stand; expand the legs until it locks in place.
When in use, the height of the stand is about 16.25″, the width of the stand is just under 12″, the depth of the stand is about 12.5″, and the weight of the stand is 2.375 pounds.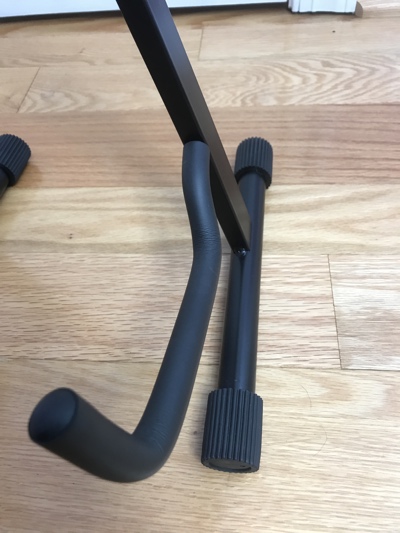 Note: Since the legs only lock once they are fully separated or fully closed — they do not lock at an intermediate (narrower) position — this means that while this stand can hold electric guitars, acoustic guitars, and bass guitars (and other similarly sized instruments), this stand is not optimal for smaller instruments, such as a soprano ukulele.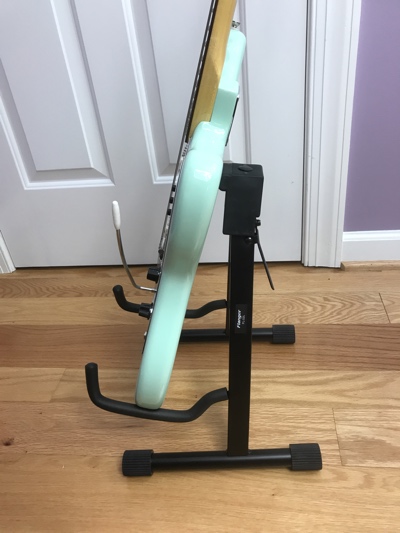 I will note that one noticeable issue is the rubber rest at the A apex — it is quite loose, suggesting it is not firmly attached. However, in usage it has never come off yet, though its wiggle is a reminder of the budget price.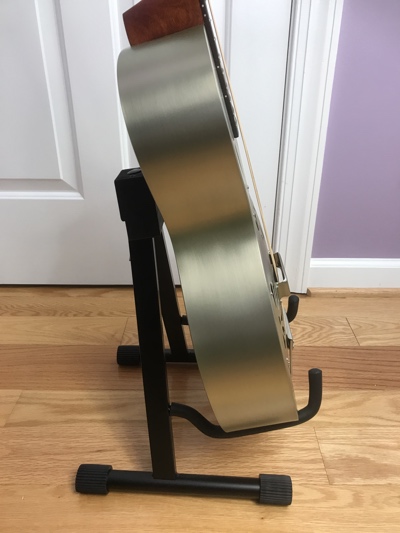 All in all, this is a fine guitar stand, well worth the price. I'm happy to buy multiples of these stands to scatter throughout my house so that no matter where I am, I can always have a guitar on hand and rest it comfortably when I'm finished playing.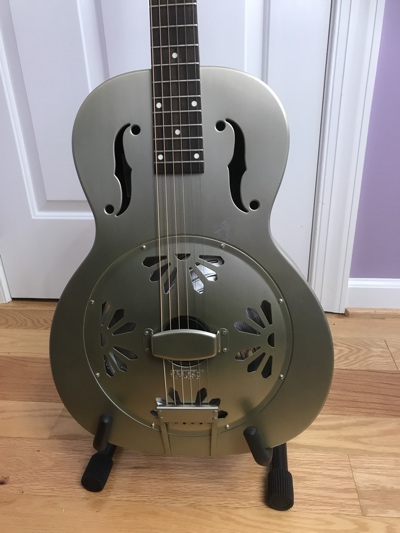 I hope this review of the Flanger FL-02L Universal A-Frame Guitar Stand has been helpful.
Pricing and Availability (on Amazon): Flanger FL-02L Universal A-Frame Guitar Stand (aff)