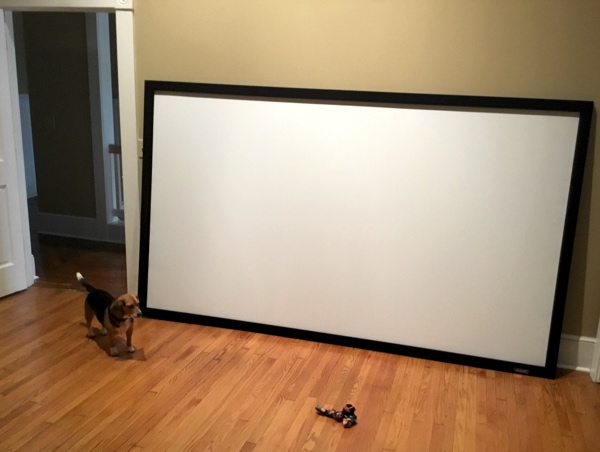 Upgrade your movie nights!
If you've been watching your movies by projecting the video onto a painted wall or via some similar hack job, then you'll be blown away by the visual quality of this QualGear 120-inch projection screen. The catch is that you'll have to assemble the screen yourself.
The screen I ordered is the 120-inch 16:9 4K HD Ultra White screen that comes with a black matte material, similar in texture and look as velvet, for the border. Including the frame, this comes out to about 9 feet by a little more than 5.25 feet. This is a big screen.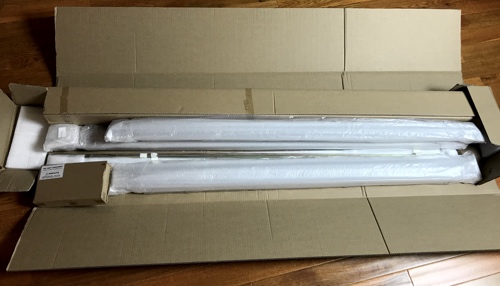 Assembly is not too difficult, though you will obviously need a large clear and flat spot on your floor on which to put all the pieces together. Everything came wrapped and protected in the box, and the individual braces, screws, wall hangers, etc, were individually packaged in plastic bags.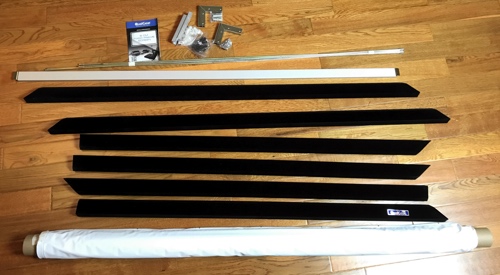 The instructions were clear — there are graphic as well as text directions. Though one person can assemble the screen, the process will go much faster if you have two people.
The only flaw in my the screen that was delivered to me was that one of the screw holes for an internal brace piece was missing. In more detail: one of the brace holes was drilled but not threaded, so the securing bolt could not be used. However, I was able to finish the assembly of the screen, though obviously it is not as strong as it could have been due to the structural flaw. The screen is not that heavy, and the frame pieces are aluminum, so I don't think I will have any issues because of the flawed brace piece.
Note: because of the size of the screen, you may want to assemble the screen in the same room in which you will hang the screen, because once it's put together, you may have difficulty maneuvering it around tight corners or narrow hallways. One person can lift the screen, but I really recommend you have at least two people to hang the screen on the wall.
Once assembled, the screen does look very professional, and again, the video looks great when projected onto it.
So for a modest amount of money and with a little work to assemble it, you will end up with a professional-looking projection screen.
In my pictures I show the parts in the box, the parts on the floor, and the assembled projection screen (the beagle in the picture is not included in the box and is only shown for scale).
All in all I'm very happy with this screen, and I hope you found this review helpful.
For pricing and availability on Amazon, see this link: QualGear 120-Inch Fixed-Frame Projection Screen (aff)