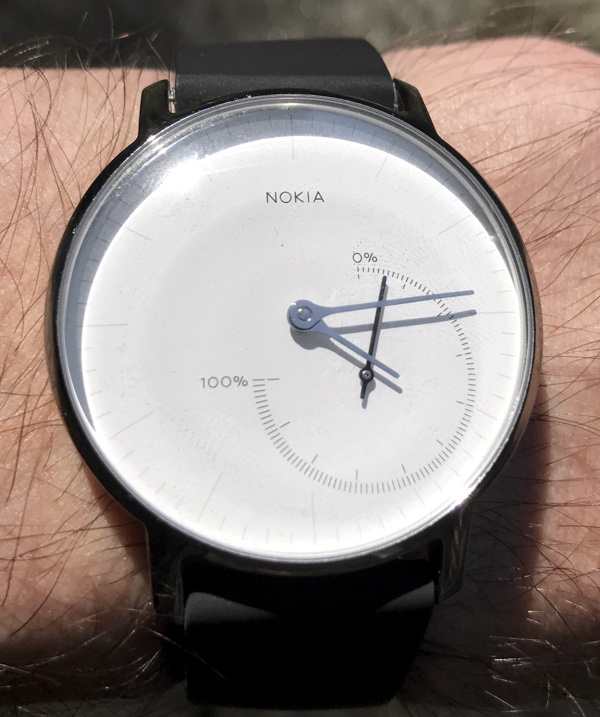 Fitness watches are all the rage these days — some come with quite a bit of functionality, others not so much. Some look nice, others not so much. This new Nokia Steel watch says it is an "activity" and "sleep" watch — but is it a fitness watch? Let's take a closer look.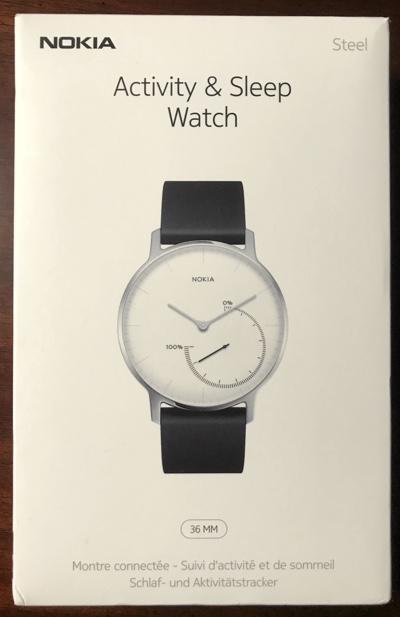 In the box you get the watch, a reset tool, and a quick installation guide. I chose the "white" version, which comes with a light parchment colored background (in other words not exactly stark white), steel casing, and a black silicon band.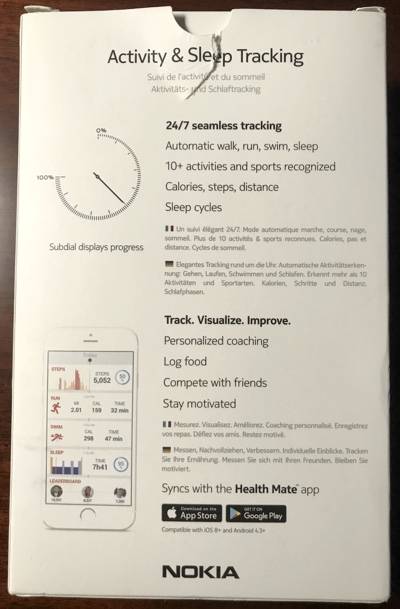 The watch overall has an attractive design — it's a sleek, modern watch. The watch face has hour and minute hands, as well as a separate dial that tracks your daily step goal, from 0% to 100%. There are no buttons or knobs on the watch, save for the recessed button on the back used only during setup. The face is 36mm in diameter, and it has an 18mm band with a buckle-style closure, so in general this is a unisex design.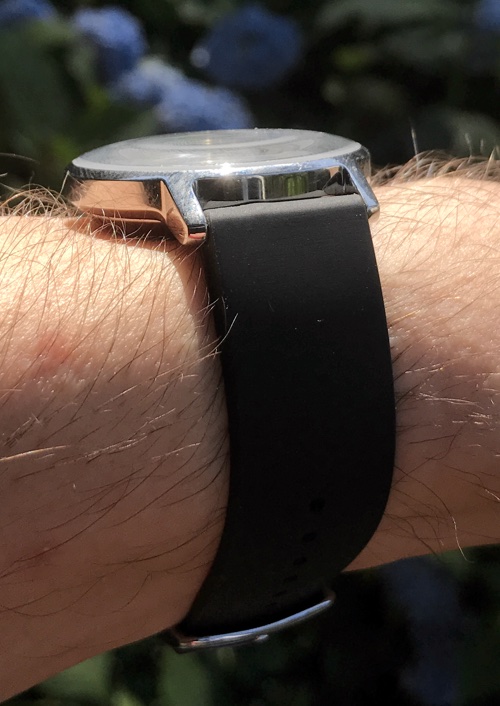 I thought it had an elegant or delicate styling — this watch would look fine to wear to an office job, for example. Personally, I would have preferred a leather band with this watch. Instead, it comes with a silicon band, allowing it to be immersed into 50m of water (say when swimming). I'm considering purchasing a second band.

I found the analog watch face to be not very readable unless you are standing still in good lighting. Forget easily tracking your time by glancing at the watch while running. I wish the tick marks at least were bolder.

You cannot set up the watch without using the accompanying Heath Mate app, available for iOS and Android. On both platforms, it was easy to set the time and easy to set alarms. However, getting the step detection functional took multiple resets, and in the end only worked on iOS. The watch wants Bluetooth and location services enabled.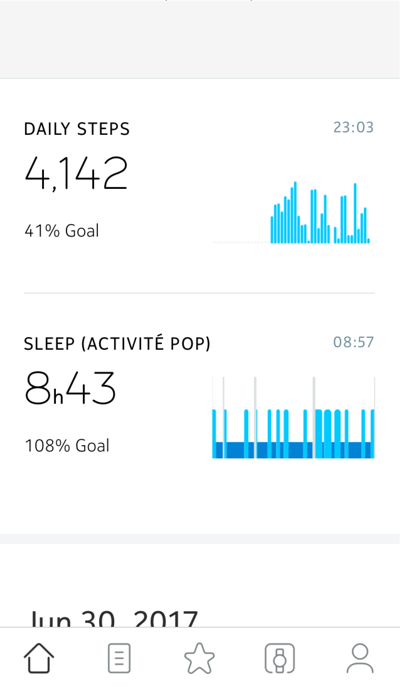 The Health Mate app can set up the watch, sync to download sleep and activity data, and set alarms. There's also a social function. To sync, you simply open the app on your paired device — on iOS you can see the sync as it happens. The watch uses a Bluetooth Low Energy protocol.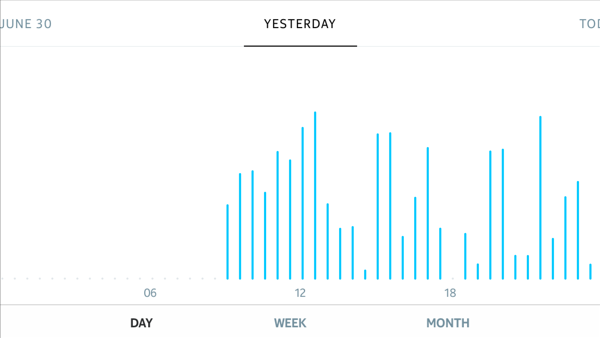 The graph functionality in the app could be improved. There are no units of measurement on the y-axis, you cannot zoom into the graph, and you cannot see the underlying data. Thus, you can only get an overall feel for what parts of the day were more active than others, rather than specific measurements.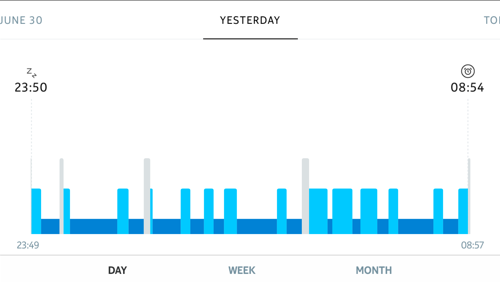 If you sleep at night, then the watch will display your sleep "quality" — when it thought you were in deep sleep (dark blue), light sleep (light blue) and awake (tan). In testing, the watch did an OK job of detecting when I was sleeping, though it seems to have trouble detecting when I fall asleep. Possibly related, it missed a short one hour nap, and it misjudged when I went to bed last night.
One useful function is the ability to setup alarms (using the app) and have the watch vibrate you to wakefulness. I liked being able to have an alarm that doesn't wake my spouse.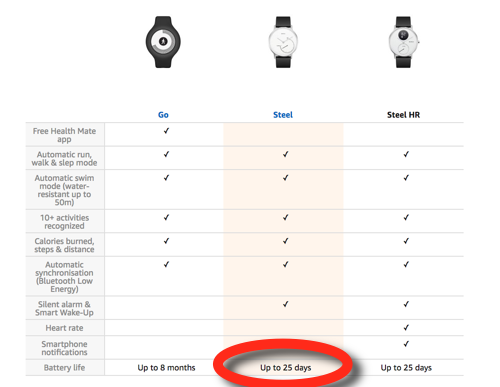 The activity tracking functions of the app were less useful. You can manually enter entries for many aerobic activities, though for each activity you can only log activity duration, "intensity", and how many calories you used — these are all values you must calculate and enter into the app yourself. Also, there is no stopwatch functionality on the watch or app. And, for example, weight lifting is a generic category, without the ability to track reps, amount of weight lifted, or type of lift.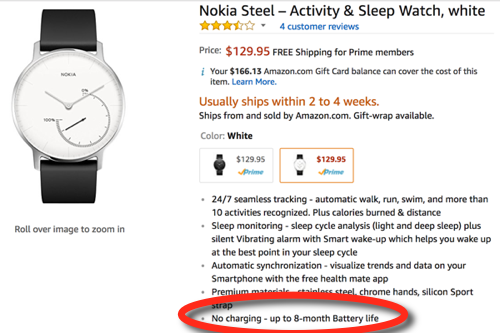 The battery life of the watch is unclear, as the manual is silent on the topic. One part of the Amazon page for the watch says 8 months, whereas another says 25 days. Either way, the battery is not rechargeable, so the watch must be taken to a jeweler to get new batteries in order to ensure your watch remains waterproof after the battery change (though the Nokia website provides instructions in case you would like to change the battery yourself).
In conclusion, I cannot say that this is a fitness watch. Rather, it is a timepiece that when paired with the app has an alarm as well as step counting and activity tracking functionality. If you are an office worker who needs a stylish timepiece that can survive a shower or swim, as well as count your steps, this might be your new watch.
See the following link for pricing and availability: Nokia Steel Activity and Sleep Watch
.