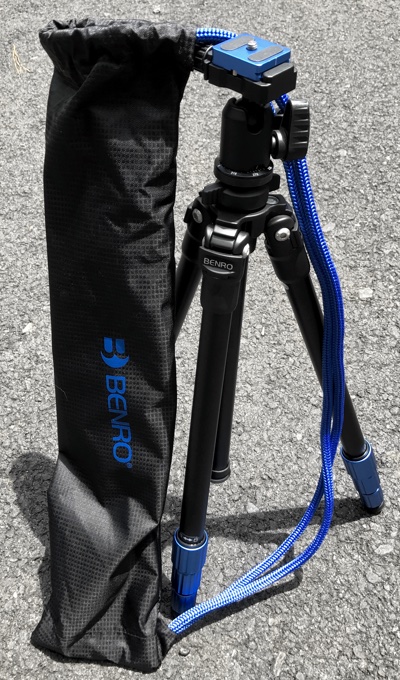 For my needs, this is an exceptional travel tripod.
I am not a professional photographer, but I do travel a lot, and so I want a robust travel tripod that is easy to use. Previous travel tripods I've tried were often too flimsy or unstable — I was never sure that the tripod legs wouldn't collapse under the weight of the camera or fall over in a gust of wind. Or the tripods were made with plastic pieces that often broke or didn't latch securely. Or the tripods were inconvenient to use — requiring a screwdriver to remove/attach the camera plate, or were just too fiddly to use on a regular basis. Or they were just too stripped of features in order to be called "travel" tripods.
The Benro SLIM Aluminum Travel Tripod has none of these failings.

Here are a few overall specifications:
Weight: 2.6 pounds
Maximum Load: 8.8 pounds
Folded Length: 20.1″
Minimum Height: 19″
Maximum Height (center column extended): 57.6″
The travel tripod itself is black anodized aluminum with blue aluminum leg joint locks and rubber feet. The tripod also comes with a durable carrying pouch with an over-the-shoulder-type sling cord for carrying convenience.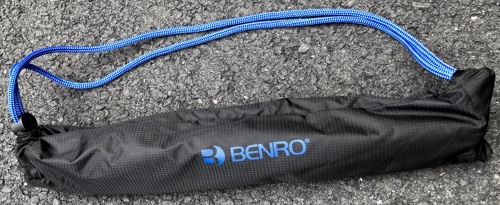 The three tripod legs are independently maneuverable, which is a benefit when setting up on uneven ground. There are four leg sections, with three aluminum twist locks that are ergonomically easy to grip. Each leg has a rubber foot.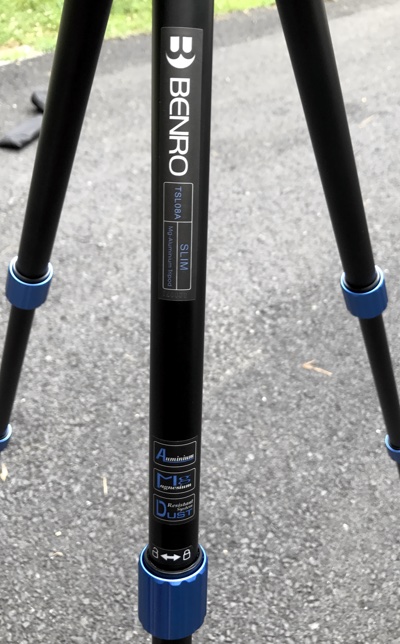 There is a center column which provides about an extra 9.25″ of height, and the column also has a weight hook for extra stability.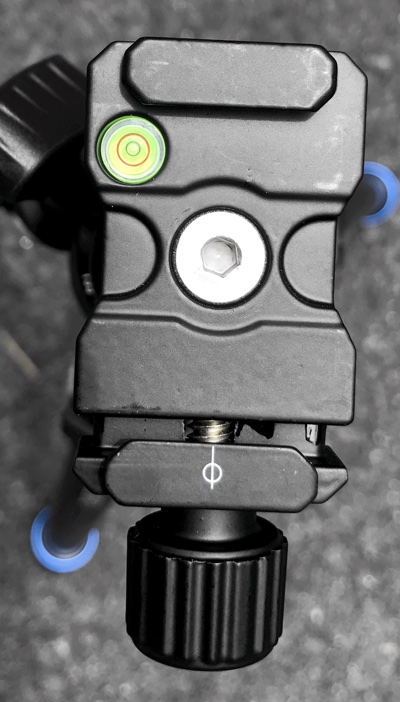 The tripod ballhead has an anodized aluminum arca-swiss style quick release plate, a D-ring 1/4"–20 camera screw, and a bubble level. The shoulder also allows the head to rotate, and includes 360 degree markings.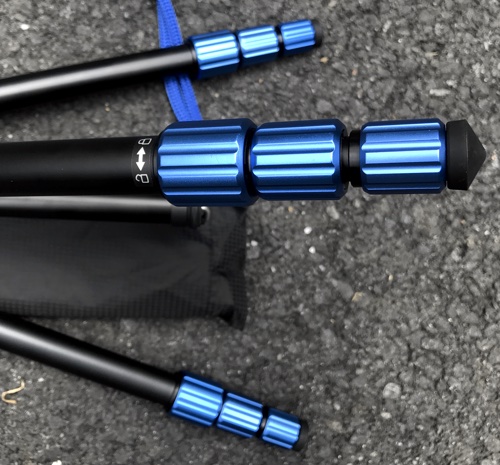 In use, the tripod for me couldn't be better. It folds up to a narrow profile and is lightweight, which makes carrying it in the included bag very convenient. Also, the locks open and close without needing much rotation, which speeds setup and takedown. And the ability to film at such a range of heights, even on uneven ground, makes this tripod super-usable.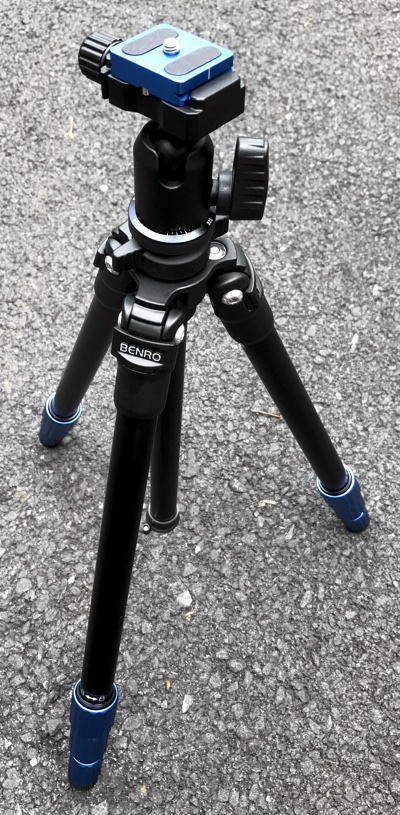 All in all, this is a stable, robust, easy to use, functional, and portable travel tripod. Too many superlatives? Then let me just say that I am very happy with it — this is my new travel tripod.
Pricing and Availability: Benro SLIM Aluminum Travel Tripod on Amazon