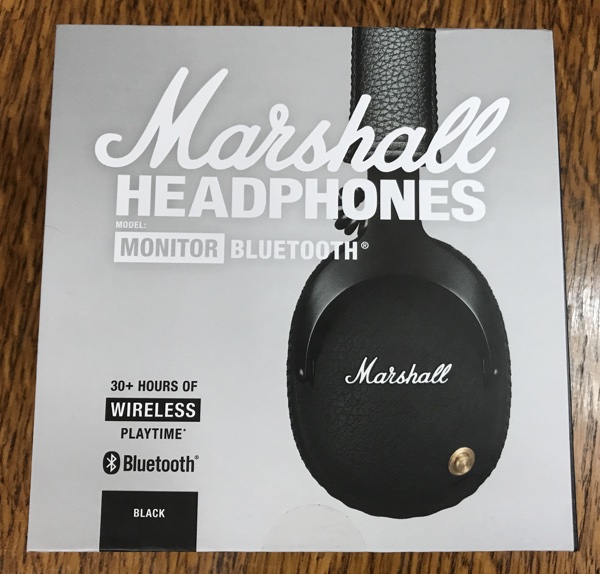 Especially for those who create music, you probably know the Marshall name from their iconic line of guitar amplifiers, but they also make a line of headphones and speakers for those who want to rock out while listening.
Here's a pic of the Marshall Woburn Bluetooth Speaker, Marshall Monitor Headphones (right), and Marshall Monitor Bluetooth Wireless Over-Ear Headphones (left):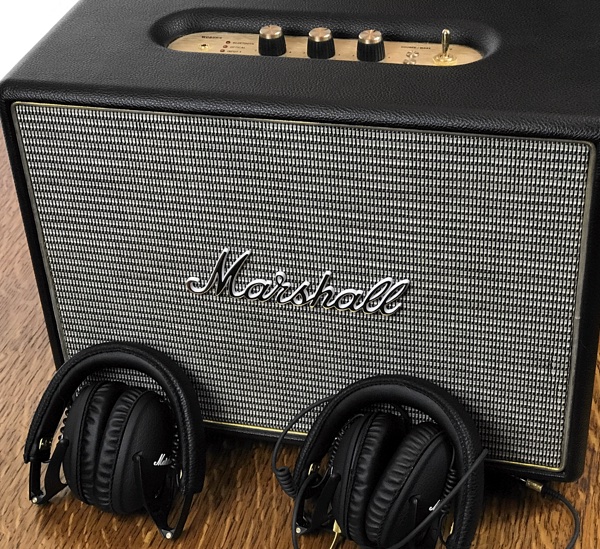 I recently grabbed a pair of the Marshall Monitor Bluetooth Wireless Over-Ear Headphones, and after putting them through their paces, I'm not giving them back.
Here's why.
INITIAL IMPRESSIONS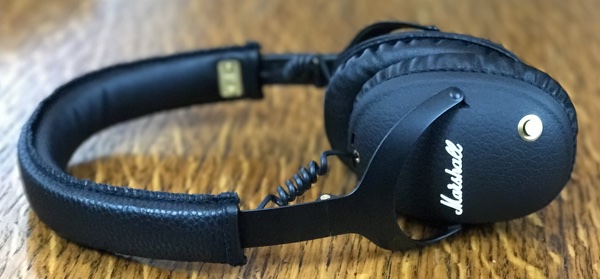 I'll list the specs and give more details below, but let me just say that the wireless performance of these headphones won me over. Before these headphones, I had tried wireless in-ear headphones, but could only use them for limited amounts of time because of listening fatigue from having something jammed into my ear canal. No thanks.
I had also tried wireless headphones that required you to add your own batteries. I found these types of non-rechargeable headphones not dependable because you'd be enjoying your tunes on a road trip and suddenly the batteries would die — if you hadn't pre-purchased and pre-packed extra batteries, you were hosed. And I don't think the environment needs to be poisoned with extra throw-away batteries just so I can catch up with the latest audiobook.
These Marshall headphones on the other hand are over-ear headphones that are rechargeable — the built-in battery allows for a playlist-friendly 30+ hours of listening pleasure per charge. Moreover, I maintained wireless connectivity up to about 30' from my iPad, which means I can move around the house from room to room without losing signal. Finally, the aptX Bluetooth audio quality is good enough that it makes me forget I'm on a wireless connection.
So from a pure sonic freedom standpoint, these headphones are already winners in my book, but there's more.
WHAT'S INCLUDED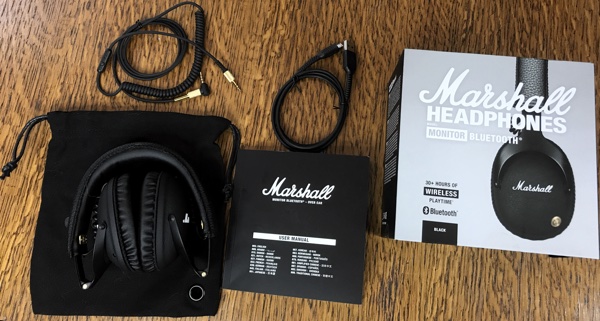 In the box you get:
Headphones
Cloth carrying bag
3.5mm to 3.5mm headphone cable with built-in remote and microphone
USB to micro-USB charging cable
User manual
FIT AND FINISH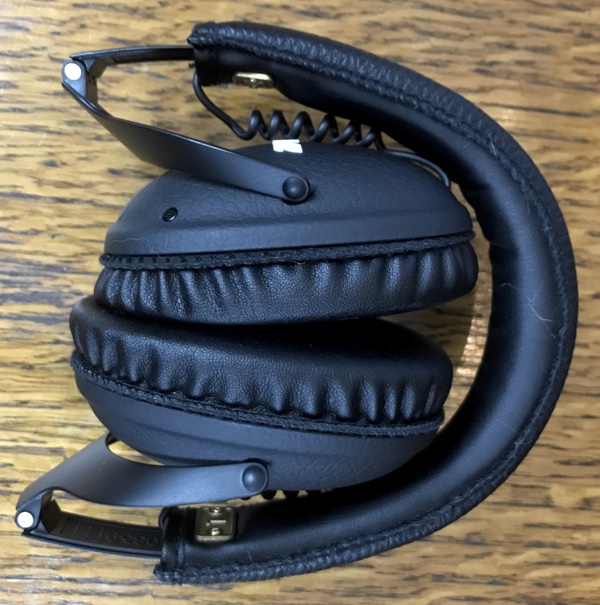 I found the fit of these headphones to be about just right — they were snug enough to help isolate ambient noise and keep the headphones firmly attached to my head, even when actively playing air guitar while rocking out, yet not too tight to cause listening fatigue. I found the headphones to be lightweight and with enough ear cushion padding to allow for hours of solid use.
One con: these are over-ear headphones, but the ear cavity was not generous in size — the fit around my ear was barely adequate. In fact, if the ear hole opening was any smaller it would almost be an on-ear design. I have medium-sized ears, so just keep that in mind. That said, the ear cushions themselves are easily removed by simply lifting off the ear cushion, as they are held in place with magnets. This makes replacing the ear cushion a convenient task, though I don't expect to need to do so for quite a while.
Overall though, there is a nice attention to detail in the design and construction of the headphones. The design embodies the classic Marshall style and the leather headband trim and brass accents speak to a quality design — they even embossed "Long Live Rock N' Roll" under each ear cushion.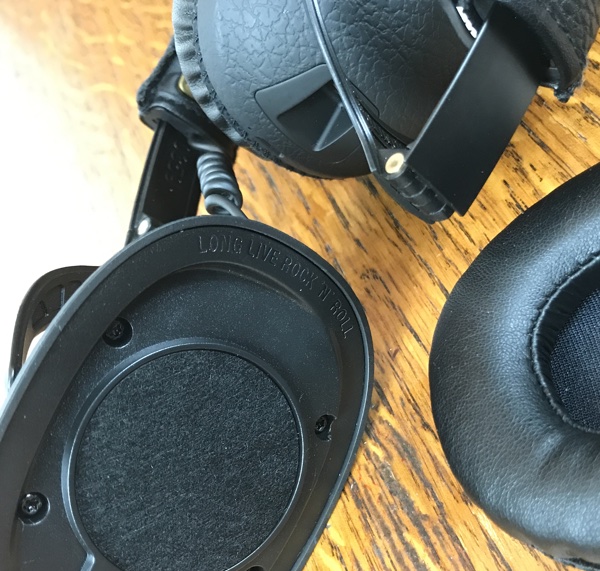 USE
The headphones come stylistically packaged, reminiscent of an Apple design, except in Marshall black and with a bit more attitude. The headphone look is mostly a combination of black vinyl with white Marshall logo lettering, and brass accents throughout. In the hand, the headphones feel solid — not too heavy, yet robust via their metal frame, metal hinges, and leather headband detailing.
The headphones charge via the micro-USB socket — you can use the included micro-USB cable or a separate charging brick, say one you might have from an old phone. An LED lights up your status.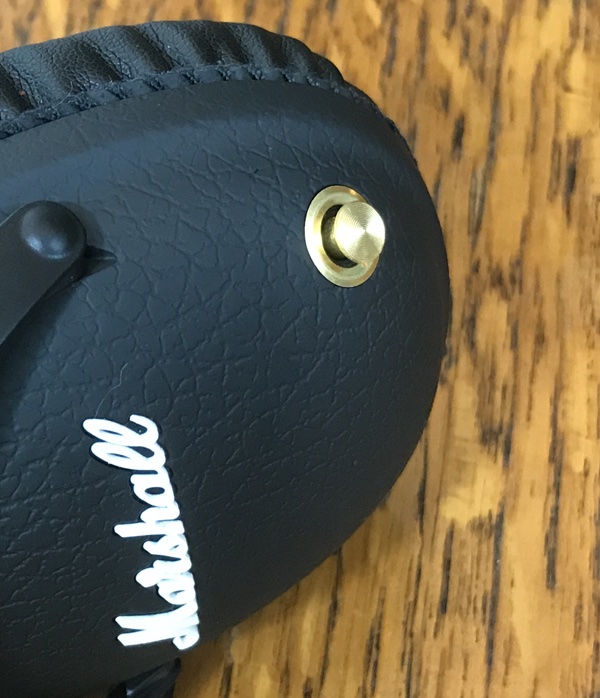 Syncing the headphones to my iPad was an easy process, and the Bluetooth scan was initiated by the headphone's brass control knob. This control knob is like a multi-direction, multi-function mini-joystick — it allows you to turn the headphones on/off, answer incoming phone calls, play or navigate through songs, adjust the volume, and initiate Bluetooth pairing.
For example, you can increase the volume by clicking the knob up, you can skip to the next song by clicking the knob to the right, and you can pause the song by pressing the knob down. These directions may seem strange, since up/down and left/right depend on the angle the headphones are placed on one's head, but after a few tries, the use of the control knob becomes intuitive.
The knob itself is brass, and this gives a feeling of durability and style to the interface. After pairing the headphones for the first time, I did have to turn the headphones off and on again before the volume controls became functional, though I've had no problems with the control knob since.
You can also field voice calls while wearing the headphones via the microphone built-in to the headphones, and you can accept, reject, or end a call via the control knob.
When you are finished using the headphones, they compress to a small form factor and fit easily into the included carrying pouch.
SOUND
I realize what sounds "good" is somewhat subjective, especially dependent on the person listening and what they are listening to. For me, I have multiple use cases, and so I want a more general pair of headphones rather than something engineered for one specific type of audio. These headphone's 20Hz–20kHz frequency response[1] has a mid-frequency scoop, which sounds clean and quite nice to me, especially when listening to rock, blues, audiobooks, and podcasts:

However, if you prefer more bass-heavy audio — some tunes may sound like they are missing some thump — then you may find these headphones lacking in the low end. So, I'd say that if you want a more general sound profile that especially sounds good for vocal tracks and you don't mind not feeling the bass in your bones, then these are a definitely headphones to try.
These headphones also allow you to share what you are listening to with a friend via the 3.5mm I/O jack and included cable. In fact, if you can even use the headphones with a device that does not have Bluetooth using this cable, by attaching the cable directly to the device's headphone jack and talking using the cable's included mic and remote. Or you can otherwise just listen to audio in a wired fashion with the cable, in case you just get tired of being free to roam around in sonic bliss.
BATTERY
A long-life battery is also what helps make these headphones such a joy to use — listening time is rated at about 30+ hours, which means you get several days worth of using them, which is a lifesaver when on travel when far from a charging outlet. There's also some smarts built into the unit's power management circuit, as the headphones will turn themselves off after 10 minutes if not connected to a sound source, which helps extend battery life.
CONCLUSION
All in all these are a solid pair of headphones. The killer features for me include long wireless range, good wireless audio quality, snug fit, long battery life, and an overall tasteful design and style. The features that may cause these headphones not to work for you include the size of the ear cushions and the frequency response audio profile — especially for the price, you want your headphones to fit comfortably on your head and you want them to sound good for the type of audio you listen to.
For me, these headphones fit great, sound good for music, and sound especially great for audiobooks, podcasts, and conference and phone calls. Though these headphones might not work for you if you have to have that bass boost, the audio profile of these headphones works well for me since I listen to a variety of audio types, especially voice.
In fact, I may have to pick up another pair, since my wife found mine and now I have a hard time getting them back.
If you'd like to check out pricing and availability of these headphones on Amazon, please check them out via this link: Marshall Monitor Bluetooth Wireless Over-Ear Headphones on Amazon
---
Image from https://www.marshallheadphones.com/mh_us_en/monitor-bluetooth-black  ↩