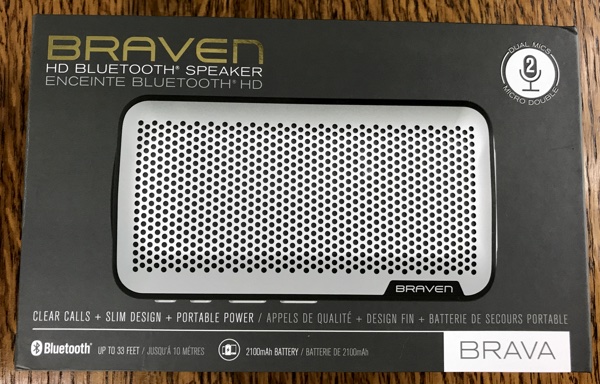 Ever wished for a mobile conference call speaker? Ever wanted a little more volume from your phone or tablet when playing audio in your car? Disappointed with your tablet's speakers when watching movies? Well, the BRAVEN Brava Conference Call and Car Speaker might just be the solution you need.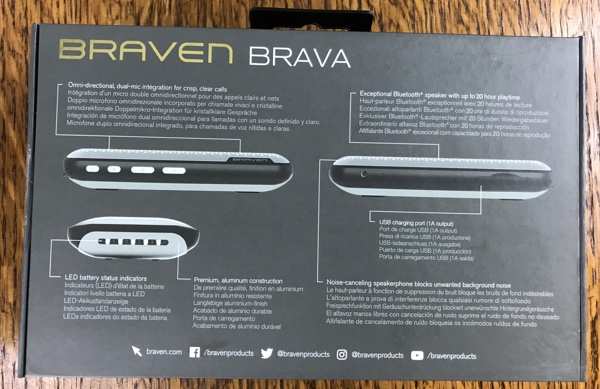 Essentially, this is a speaker with a rechargeable battery, two omni-directional, noise-canceling mics, and Bluetooth connectivity. This means you can host a conference call by placing this speaker in the center of the table without having to deal with a tangle of wires and plugs. Have a car without Bluetooth integration? Don't upgrade your car, but instead get this speaker so you can listen to your audiobook in the car. Or you can watch a movie from your laptop or tablet and give the audio just enough boost to make the movie experience enjoyable.
INITIAL IMPRESSIONS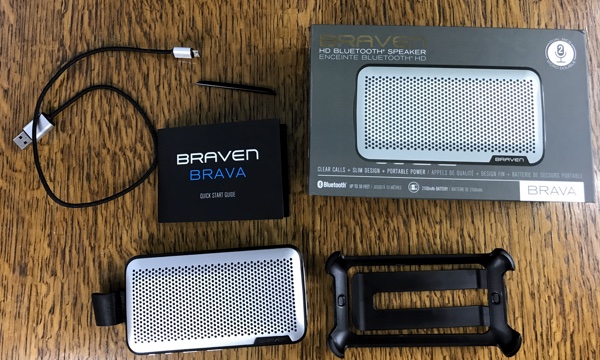 The Brava Conference Call and Car Speaker is packaged quite nicely, and the box comes with:
BRAVEN Brava Speaker
Universal Clip
Optional Leather Strap
Micro-USB Charging Cable
Quick Start Guide
The speaker itself feels quite robust. The frame is made of "aircraft grade" aluminum, and the unit measures 5.7in X 0.9in X 3in, which means it's a streamlined shape that can be easily packed on travel or that can otherwise be transported conveniently. It weighs just 9.5 oz, and it fits easily into my laptop bag.
There are several features that enhance its portability. First, there is an included "Universal Clip", which is a plastic frame that the speaker fits into. The clip allows the speaker to be attached to various items, such as a belt or a very thin car sunscreen visor.
Note that I said a "very thin" visor — the clip is not a clamp, so it cannot grip and be attached to items too thin, nor can it be attached, for example, to my own car's sunscreen visor. I can't imagine the designers of a Volkswagen Beetle purposely putting its visor on steroids, so I have to imagine that this "universal" clip only operates well on a rather small universe of car visors. The clip does work well when attaching to my belt, though when placed alongside a slide rule, camera, and cell phone holster, belt real estate is now at a premium.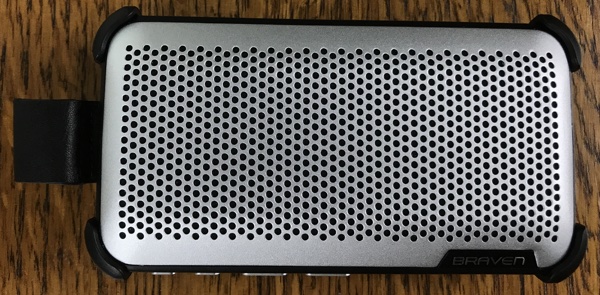 A second portability feature is its optional leather strap. One end of the device includes a channel into which you can slide a metal bar that contains a real leather strap, or you can slide a metal bar without the strap. The metal bars exchange very easily via a dedicated strap release button, similar to how some modern watch bands, such as those for the Apple Watch, can be easily replaced.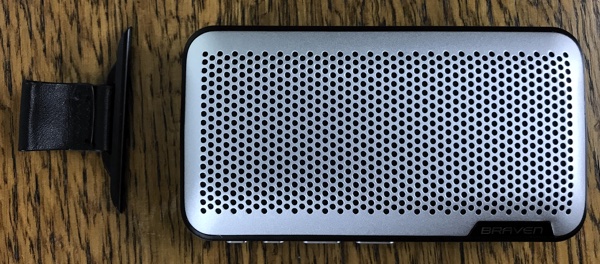 A third portability feature is the rechargeable battery. The title for the product on the Amazon website says that this has a 2100 mAh rechargeable battery, though I could not find this stated anywhere else in the product literature. The company says you can get 20 hours of speaker playback, but that does depend on volume.
In tests I was able to play audio through the speakers over multiple days, which means that you should be able to enjoy the speaker while on travel without having to scramble to find the next charging outlet. Also, the battery will last even through the most demanding business meeting. Battery life is extended by its auto-shutoff feature — the unit shuts itself off after 30 minutes with no active Bluetooth connection.

One other feature of the battery is that you can also use the battery to charge your other devices. The speaker contains a USB charging port (.3 – 1A output) which means you can top up your mobile device to tide you over until you can make it to recharging safety. And the battery has five LEDs to indicate battery status (each LED indicates 20% power).

Just for a rough estimate, according to this article[1], battery life for the iPhone 7 and iPhone 7 Plus is 1960 mAh and 2900 mAh respectively. This means that fully charged, the Brava theoretically could fully charge an iPhone 7, but not an iPhone 7 Plus. On the other hand, no matter what device you have, the Brava could extend your device's battery life enough to certainly provide sufficient power to call that taxi, finish that call, or send that email, which is of great benefit when on travel and away from a charging outlet.
The speaker audio volume seems good, and the other features — especially the portability of the device — are compelling, so my initial impressions are quite positive.
USE

The controls on the Brava Conference Call and Car Speaker are relatively intuitive — there are four buttons on the device and each button serves multiple functions, depending on how long the button is pressed:
Power on/off (long) / Battery check (short)
Pairing / Answer-end call / Pause-resume music
Volume up / skip track
Volume down / skip track
I found the buttons easy to locate and press by touch, such as when I can't immediately look at the device — say when I am trying to skip to the next track while driving.
Bluetooth pairing to another device is easy, and the speaker remembers up to eight previously paired devices. Wow, eight!
As far as how this speaker can be used, I've identified three main use cases. As the product title suggests, the speaker can be used as a conference call mic and speaker. Place the speaker, with its two omni-directional, noise-canceling mics, in the center of a table and you can conduct a conference call. The speaker volume seems adequate for a small to medium room, though note that the mics work best when picking up audio within a radius of four to five feet. This means that if you have a long, rectangular table, the voices of those sitting at the far ends of the table might not be heard.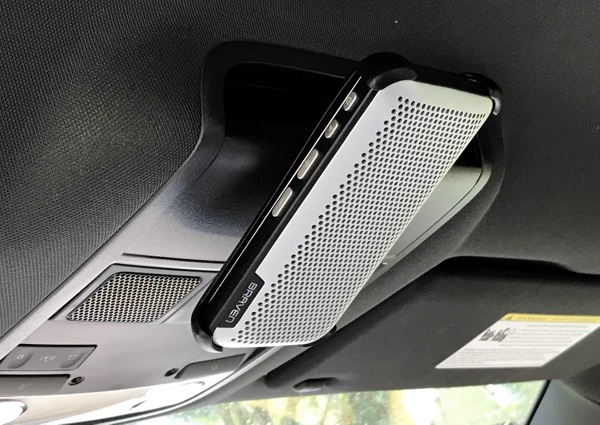 Another use case for the speaker is in the car. If you can manage to position the speaker in an appropriate spot, preferably near your head, then you could use it for a hands-free call. Or you could, say, listen to an audiobook. The latter might be desired if your car does not have Bluetooth connectivity and the speaker on your mobile device is otherwise not powerful enough to play audio on its own. The volume of the speaker is loud enough that listening to audio in the car above the road noise is decent, though I noted there is a volume decrease when using it on a call, as opposed to just listening to music or voice audio.
A final case for the speaker is using it as the speaker for watching movies on your mobile device. Say you want to watch a movie on your tablet and aren't using headphones — maybe you want to watch a movie with someone else. Most tablet speakers are barely adequate in such situations. This speaker gives a volume boost, and the audio quality works well for most movie audio. The speaker even improved on my iPad Pro audio, which has a pretty great sound system.
Note that I did not identify using the speaker to listen to music as a use case. Of course you could use the speaker just to listen to music, but remember that this is advertised as a conference call speaker — no one will confuse this for a high-fidelity stereo speaker. The frequency range of the speaker is tuned for human voice, and it does that very well. Playing audio from movies is also good, because listening to conversations is a key aspect in most movies. So of course, audiophiles playing music through the speaker may be disappointed. But what it was designed to do it does very well.
My major hesitation with the unit is with its Bluetooth range. While on a conference call the audio from the speaker started breaking up when carrying the unit maybe 8' away from my laptop (direct line of sight — no obstructions). While listening to audio streamed from a movie I was able to move a little further away, but not much more. So this is clearly not a very mobile speaker/mic system. While being wireless reduces wire clutter (over a wired conference call speaker), you are still constrained in your mobility. As long as you don't move too far from your paired device you should be OK.
CONCLUSION
The Brava Conference Call and Car Speaker is a good solution. The speaker has a robust, aluminum design and a form factor that makes traveling with it convenient. Also, the speaker works well for conference calls, voice audio (audiobooks, podcasts, etc.), and movies. If you use it with a small to medium conference table, inside a car, or beside you on the couch, it works very well. However, for the price, I expected more mobility.
If you'd like to check out pricing and availability of this speaker on Amazon, please click this link: Brava Conference Call and Car Speaker.
---
http://bgr.com/2016/09/12/iphone–7-vs-iphone–7-plus-battery-capacity/  ↩