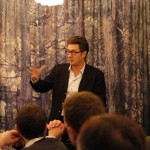 I previously wrote about our leg of the trip that took us up into the tallest spires of castles and down into the depths of mines dark and damp.
We then headed north, to Copenhagen, in the land of the Vikings.
However, in Copenhagen at least, I'd say it's now the land of the bicycles, where about 30% of the people there travel and commute by bike.
Aside from dodging . . . → Read More: Copenhagen Denmark trip recap: sushi, business, and bicycles